While you're spending (some time wasting) your precious time on the internet, why don't you make some extra cash? InboxDollars is ready to pay you for completing simple tasks (micro-tasks) online. You can easily monetize your time just sharing your opinion about the products or services you use(d). InboxDollars app download is the starting point to make money online from your home comfort effortlessly.
InboxDollars is a popular company that pays to complete surveys, answer simple questions, play games, read emails, shop online, try offers, watch videos and more. Keep reading our InboxDollars review to know how it works, pros and cons, how to sign up for InboxDollars, and get to know is InboxDollars legit or a scam to stay away.
Let's start!
What is InboxDollars?
InboxDollars was founded in 2000 and it is an online rewards program. It pays its members for completing online tasks like shopping for cashback offers, taking surveys, playing games, reading paid emails, etc.
InboxDollars is a part of Prodege LLC (other popular survey companies under Prodege's umbrella are Swagbucks, InboxPounds, ShopAtHome, MyPoints and DailyRewards). As of now, InboxDollars has paid over $80 million to its millions of members since 2006. It is a really pretty good chunk of change.
Now the question here, is InboxDollars legit? Yes, It is. Its parent company, Prodege, has an A+ rating with BBB (the Better Business Bureau). Adding more that the InboxDollars has also partnered with popular legit companies like Walmart, Netflix, and Target. So it's 100% a legit site.
How does InboxDollars work?
In this Inbox Dollar review guide, you will learn all about this survey site. In Particular, you will learn how InboxDollars works and what are the easy ways to earn money.
Becoming a member of an InboxDollars survey site is 100% free. All you need to do is simply create an account on its survey site. Once you have validated your account through email, you're ready to earn some extra bucks by completing online tasks.
Popular online tasks in Inbox Dollars are, paid surveys and playing online games. You can redeem your earnings through special offers, going through its shopping portal to access major retailers, and more. If you want, you can withdraw your earnings as cash through PayPal.
There are several simple ways to make money online with InboxDollars. Before we dig more into various earning options of InboxDollars, let's talk about how you get paid.
Payment Redeem
To get paid from Inboxdollars, you must at least have $15 in your account in order to request payment. The Inbox Dollars payment modes are PayPal, check, a gift card to a popular retailer such as Amazon, or use a prepaid Visa card.
Make a note that, if you choose either a prepaid visa card or a gift card or paper check there's a processing fee of $3.
To receive cash from InboxDollars, you need to log into your account and request for a payout.
If you're an InboxDollar Gold Member then your payment will be processed between 3 – 9 days after your request. However, you'll automatically become a Gold member, once you receive your first payment from them.
Payments are processed on Wednesdays. If you are requested for a paper check, gift card, or prepaid Visa, it will take up to 2 weeks to reach you.
Coming back to the earning opportunities, there are several ways to earn and save money with InboxDollars. In this Inbox Dollars review guide, we're mainly focusing on the methods where you don't require you to spend money.
Below are some popular ways to earn cash from InboxDollars survey site.
What Does InboxDollars Offer?
There are several legit ways to make money from InboxDollars. Those are:
Taking surveys
Shopping online
Reading Paid Emails
Watching videos
Playing games
Trying offers
Using InboxDollars' search engine
Participating in scratch-offs
But the question here is, Do all these offers work? Let's have a closer look at this through our Inbox Dollars review.
InboxDollars Review 2023
This Inbox Dollars review includes all about this survey site like pros and cons, how to earn money and how to join InboxDollars.
$5 Signup Bonus
The best part of InboxDollars is it offers a $5 signup bonus or a "free $5 to get started." Yes, it's true that it pays directly to your account once you have validated your email address.
To get started with Inbox Dollars, all you have to do is just provide your email address and create a password. That's all, then you would need to confirm your email address and you will get $5.
There is no doubt at all. I provided my email address and after validating my email id and account, I got $5 credited to my account. Really Awesome!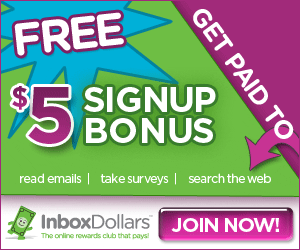 InboxDollars Key Features
There are some best features that tend InboxDollars to get the top place in the race. The top and strongest features are the earnings, mobile app, its features and fees.
InboxDollar Earning Opportunities
So far, InboxDollars has paid more than $81 million to its members. Most paid surveys pay from $0.50 to $5.00 and take 3 minutes to 25 minutes respectively to complete. Adding more that there are some survey jobs available on the portal that pay $10 to $20.
The best part is it pays $5 sign-up bonus, InboxDollars offers different ways to earn cash:
InboxDollar Earnings Tips & Tricks
Along with survey jobs, there are many other ways available to help you earn cash.
If you are starting out, follow the website's suggestions to get familiar with the earning opportunities and different options and how to make your first $30 easily.
Activate your account for $5.
Profile survey for $0.50.
Watch a how-to video (very short) for $0.05.
Complete a short to-do list for $0.50.
Start with a simple survey job for $0.25.
Qualify for a short household survey for $0.10.
Sign up with the LifePoints community and earn $2.00.
You can easily increase your earning potential by signing up for the Big Buck household (shopping habits survey) for $5.00.
Adding more that you'll be entered to win a $1,000 Target gift card.
Sign up for a free McDonald's sandwich to earn $1.50.
Women members can sign up for Cosmetics Samples & Savings and earn $2.00.
Earn $2.00 with MobileXpression sign up.
You will get a $5 Amazon gift card for staying active for 7 days.
Sign up for free supermarket samples from Cool Savings to earn $1.25.
You can earn $5.00 by signing up and registering your internet devices for Nielsen research.
Request free Mr. Clean samples to get $2.00.
You can earn $1.50 by asking for Tide laundry samples.
Watch videos earning $0.05 to $0.07 each.
Rate Aquafina vs. Dasani for another $2.00.
By signing up for Revenue Universe to some cents to $20.00 for completing a questionnaire, trying a sample, or subscribing to a product.
InboxDollar Registration Fees
InboxDollars is really awesome when it comes to joining fees. In Inbox Dollars, joining is completely free and there is no longer a $3 payment request processing fee.
All the cash you earn from this site goes straight to you.
InboxDollars App – Mobile Friendliness
Downloading Inboxdollars app makes it very simple to earn money on the go. Inbox Dollars offer both Android and iOS versions to its members.
The Android version has over 5 million downloads and averages a 4/5. The iOS version has 153K reviews, averaging a 4.5/5.
How to Earn with InboxDollars?
As we mentioned above, there are several ways to earn money from InboxDollars survey site. The best part is, you do not need to pay any registration fee or start-up cost to start with this money-earning site.
Let's see what are the ways to earn.
Ways to Make Money Online with InboxDollars
There are many legit ways to earn money from the InboxDollar site. Those are completing surveys, answering simple questions, playing games, reading emails, shopping online, trying offers, watching videos and more.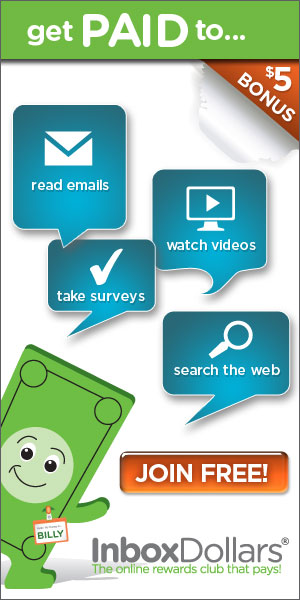 Complete Surveys
Paid surveys in Inbox Dollars is probably one of the most profitable and easy ways to earn money.
The online surveys or market research surveys of InboxDollars topics varies. The popular survey topics at Inboxdollars include everything from Electronics, sports, household, diapers, politics, advertising, health and beauty products and more.
You should provide the honest information about you during the InboxDollar profile survey registration. So that the survey companies try to match you with the relevant surveys that you'll most likely qualify for.
The survey pay will differ based on the surveys such as length of the survey and Geo location. However, on the survey itself, you can check how much you earn before you start the survey questionnaire.
Use InboxDollars' Search Engine
If you want to earn some extra cash without any effort then you can switch to InboxDollars' search engine. Yes, InboxDollars is partnered with Bing. So you can use the Inbox Dollars search engine and you will get the same results as you would searching through Bing's search engine.
The best part is that you will earn money with every four searches using the InboxDollars search engine. Also, you have the opportunities to earn the chance to get Scratch & Win prizes.
The more you use the InboxDollars' search engine, the more opportunities you'll have to win cash or scratch-off prizes.
Earn by Playing Games
There are more than 30 games to play and earn from InboxDollars, including Sudoku, chess, word search, and more. You have an option to choose from a selection of Game Show Network games, such as Wheel of Fortune and Bobble.
You can make money by playing these games in your spare time/ Also, you can enter into cash tournaments and have chances to win prizes.
Read emails
Another easy way to earn with InboxDollars is paid emails. InboxDollars sends paid emails on a regular basis after you join them.
You will get notifications about paid emails and surveys that highlight exclusive partner deals.
Paid email Earnings vary but you can easily make some extra cash by reading emails.
Grab WinIt deals
InboxDollars WinIt deals is another way to earn with by playing hide and seek.
Here, instead of looking for a cleverly hidden person, You need to look for opportunities to earn extra cash and sweepstakes entries.
InboxDollars Coupon Code – Promo Code
InboxDollars will occasionally post on its social media pages such as Facebook, Instagram, or Twitter featuring some special coupon codes.
Once you have collected the code, you have enough time until 11:59 CST to redeem it on your member profile page.
Ensure that you are following InboxDollars on social media to get the codes.
Get referral bonuses
InboxDollars pays you for inviting / referring people to its site. You are helping your friends and family members to earn some side-hustle. In return, you will earn some commission for inviting them to InboxDollars survey site.
For every member who signs up using your InboxDollars' referral link, you will earn 30% of their qualified earnings.
There is no limitation on how many people you can refer or how much you can earn with InboxDollars referral program.
Participate in Learn & Earn
InboxDollars also offers its members a daily Learn & Earn question. You can expect easy questions such as trivia-style multiple-choice questions, like what the biggest animal or fastest car is.
If your answer is correct, you can earn money or Scratch & Win opportunities.
Who Can Join InboxDollars?
InboxDollars is for anyone who wants to make some extra side income. Though, you are not going to make a million, but it's sure that you can make some extra bucks in your free hours.
Apart from InboxDollars survey, it's search engine is the best option to earn some extra cash effortlessly. Since InboxDollars pays you for online searches, it's a simple trick for Inboxdollar's members who do these things frequently. For example, if you are about to do a bunch of online searches, we recommend you to use the InboxDollars search engine instead of other search engines.
The best thing is, InboxDollars Mobile app is the best option to earn money for its members on the go. InboxDollars has an Android and iOS mobile app you can use to earn rewards.
Although not all Inboxdollars features are available on the mobile app (such as InboxDollars search engine) — still there's many legit and easy ways to earn some extra cash.
How much can you earn with InboxDollars?
It is a very common question that everyone asks: how much do you earn with InboxDollars? It depends on some factors such as the types of tasks you perform, if it's a survey job then length of the surveys, and how often you participate.
The awesome part of InboxDollars is, it gives each new member a $5 sign-up bonus. According to their website, most surveys pay between $0.20 to $5, though there are some that pay more.
As for Scratch & Win, you can easily earn between $0.05 to $0.25. Moreover, there are some opportunities and instances where you can earn $5, $10, and even $25.
We mentioned above InboxDollars payments and minimum amount for redeem.
A minimum threshold is $15.
A $3 fee, based on your payment mode.
Popular payment options available, such as PayPal, paper check, gift card, or prepaid Visa card.
InboxDollars' Gold Members can receive their payment requests processed within 3 – 9 days. However, non-Gold Members will need to wait for at least 16 days.
Payments requests are processed on Wednesdays.
You need to wait for at least two weeks for your payment to arrive.
How to Maximize your Earnings with InboxDollars?
There are a bunch of tips, tricks and strategies for maximising your earnings with InboxDollars.
Here's the easy ways to make money with Inbox Dollars survey platform:
The simple trick is, the more time you work on a task is relative to the money you earn. However, the hourly rate is very low then its not be worthwhile.
Try to get as many referrals as you can to increase your commission and total income.
Using InboxDollars app gives you more advantage in completion of more tasks on the go.l
Make InboxDollars' search engine as default in your homepage.
Completing all profile surveys is the best way to get relevant survey jobs.
Set daily goals for yourself and ensure that this target is achievable, so you don't get discouraged.
Opt for low-paying surveys, because there are more chances you'll qualify for them.
FAQs InboxDollars
Is InboxDollars legit?
Yes, InboxDollars is a 100% legit company. And it has partnered with the popular major brands like Netflix and Target.
Adding more as of now, InboxDollars has paid out over $81 million to its members. So, InboxDollars is the most-trusted site to join.
How long does it take or minimum threshold to get paid with InboxDollars?
If you reach $15 then you are ready for cash out. Once you have requested for the payout, you'll need to wait for InboxDollars to process your payment request and approve the same. This processing period will take up to 16 days.
How do I get the most out of InboxDollars?
If you want to earn the most from InboxDollar then you need to commit yourself to consistently earning money. The key is, you need to choose the best option for you.
For example, switching to the InboxDollars search engine is easy and effortlessly you're earning. InboxDollars search engine is partnered with Bing. so you're going to get good results, the same as you get in Bing results.
Or you can use InboxDollars online shopping to earn cash back.
Does InboxDollars pay through PayPal?
Yes, InboxDollars pays via PayPal. All you need to register for a PayPal account and link it to your InboxDollars account to receive payment via PayPal.
How to sign up for InboxDollars?
To sign up, go to the InboxDollars website.
There you'll find a sign-up form that says "FREE! $5 bonus".
Here you would need to provide your email address and a password to log into InboxDollars. After that you will receive an email from InboxDollars in order to activate your account.
Once you've activated your Inbox Dollars account, you'll be taken to your member dashboard where you should be able to see your account balance- $5 bonus. Now you're free to find available survey programs and offers to start earning more cash rewards.
Inbox Dollars Benefits
Get a $5 bonus when you register.
Make money for watch TV and play online games.
Earn money for online shopping.
Earn money by making online searches.
So far, more than $81 million paid to its members so far.
InboxDollars Pros and Cons
PROS
Earn cash by taking surveys, watching videos, playing online games, online shopping, reading emails and more.
Several ways to earn reward including paid surveys, playing games, referrals and social promotions.
Chances to win cash prizes even if you don't qualify for some surveys.
Minimum payout and no processing fees.
CONS
Some activities pay low.
You may not qualify for all available surveys.
Related: ySense Review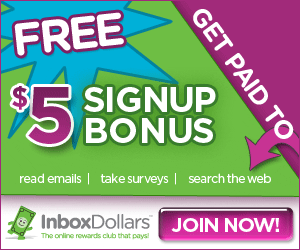 Final Thoughts
We have provided all important information about InboxDollars and it is best for anyone who likes to earn some extra cash. People who have the free time can earn extra bucks to watch videos, complete a survey, try a product and more.
Although Inbox dollars earnings are relatively small still, you can add up and increase your earning potential by performing consistently.
We highly recommend our readers to join InboxDollars.