If you're looking for or earning from the internet then you might have come across PrizeRebel App. Yes, PrizeRebel is one of the legit survey and Get-Paid-To (GPT) sites. But, do you know is PrizeRebel legit, safe and worth it? Our PrizeRebel review reveals whether the PrizeRebel survey is worth it or not.
I've been using this survey site for a long time and PrizeRebel is legit and one of the best paid survey sites in the market. There are many people making regular income from this survey site. This doesn't mean that it is a suitable survey site for you. You just go through our 2023 PrizeRebel review and take your decision accordingly.
Our honest PrizeRebel review will make it easy for you to find out if PrizeRebel will be worth it.
This review will help you to choose the right offers for you in order to earn from PrizeRebel. .
What is PrizeRebel?
PrizeRebel is a popular free membership GPT, rewards and paid survey site that pays members to complete surveys and other micro-tasks. You can earn rewards with the points and it can be redeemed for cash and gift cards.
PrizeRebel was founded in 2007 and has over 12 million members. As of today's update (July 2023), they paid out over $20 million dollars in rewards to their members.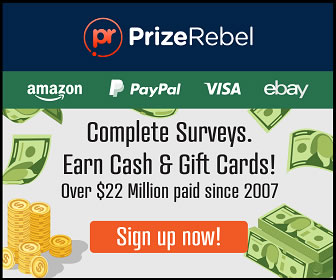 In general, it is really a good sign if a GPT, reward or survey site has existed for a long time like this. Still they are doing great. However, this is not not enough to decide how good a site is. Don't worry, our PrizeRebel 2023 review reveals it is definitely a legit and safe site to join.
PrizeRebel is based in the U.S. (California), and they do accept members from all over the world. According to their website, they have members in 183 countries including the United States, India, Canada, Australia, Germany, Mexico, United Kingdom, etc.
Is PrizeRebel Legit?
Yes, PrizeRebel is 100% a legit site and an easy way to make money online. Keep in mind, if you want to earn money with PrizeRebel then you must "work smarter, not harder."
Members will get paid in cash or gift cards starting with a $5 payout in cash or gift cards. Members who are using the PrizeRebel survey site regularly means they can get paid weekly. You cannot become one by working in the survey sites (only) like PrizeRebel. But it is sure that you can earn some decent money from this portal.
Also, the PrizeRebel survey panel is a fun and easy way to make some extra cash on the side.
Most tasks only need a few minutes to complete. PrizeRebel is perfect for anyone who wants to make some extra cash. Teenagers, college students, stay at home moms make regular income from this site.
Who Can Join PrizeRebel?
PrizeRebel allows anyone to join. Make sure that you must be at least 18 years old in order to join PrizeRebel.
Membership is available in many countries. However, if you're living in the below countries then you have more opportunities to earn money with the PrizeRebel App.
United States
Canada
India
South Africa
United Kingdom
Australia
PrizeRebel is completely free to join and earn cash. All you need to do is submit your name and email address or Facebook profile. The PrizeRebel signup process takes a few seconds only.
Once you have provided the basic details, then you would need to verify your account. After that you need to complete the profile questionnaire that helps to receive the most relevant surveys and increase the earning opportunities.
The more tasks you participate in will help you to earn more from this site.
PrizeRebel App
We could see that people are looking for that. Does PrizeRebel have an app? The straight answer is, PrizeRebel does NOT have a mobile app.
However, you can easily open the PrizeRebel website using your smartphone and be able to navigate all sections without any issues.
You can easily browse PrizeRebel site on your mobile and perform the tasks without any issues.

How to Make Money with PrizeRebel?
There are five easy ways to earn money from PrizeRebel reward site.
Online surveys
Watching videos
Completing offers
Performing online micro-tasks
Referring friends
I've worked on several GPT sites and PrizeRebel is one of my favorite for two reasons.
First, you have many simple ways to get paid. If you experience survey fatigue, you can earn points by watching videos and playing games.
The second reason is it has flexible payment methods. You can withdraw cash when your balance reaches $5. Also, you can redeem for a $2 Amazon gift card.
How Does PrizeRebel Work?
Below simple diagram shows that how PrizeRebel Works.
Ways to Make Money with PrizeRebel.
Below are some easy ways and tips to maximise your earning opportunities in PrizeRebel.
PrizeRebel Surveys
Paid online surveys are the consistent and easiest to earn from PrizeRebel. It has several survey partners, so you can participate in multiple surveys each day from different survey providers.
Before you choose any survey job, you need to give attention to these two columns like Time to Complete and Points to earn. It is very common that survey members always look for the maximum number of earnings or points with the shortest time.
For example, if you see a 5 -minutes survey that pays 10 points or an 18-minute survey that pays 250 points. Then you should give a try to an 18-minute one first.
Remember, you must need to complete a screener survey before you start a survey. The best part is, if you don't qualify for a survey, still you will earn a PrizeRebel sweepstakes entry which is really great.
However, based on the information you provided during the registration, the PrizeRebel survey panel will try to find you a relevant survey.
By participating several survey programs will give you more experience and skills in order to increase your earning potential. Remember, never miss to complete a profile survey with each network.
In PrizeRebel survey site, you will get credit for most surveys within 24 hours after completion.
Completing Free and Paid Offers
Completing offers is another way to get rewarding. There are two types of offers available. Free and paid offers are the most profitable option.
If you are looking for free offers then there are many free offers, too. For example, you can easily earn bonus points by visiting websites. Also, you can earn PrizeRebel points by getting insurance quotes, playing online games and downloading apps.
There are many offers that give you the opportunity to earn up to $150. You can redeem those in your favourite stores and restaurants.
Popular stores for gift card possibilities include:
Starbucks
McDonald's
Dollar Tree
Watching Videos
Another easiest way to earn money from the PrizeRebel App is, Watching videos. However, you're not going to make a lot of cash or points. Still, it will offer some variety from your regular YouTube routine.
PrizeRebel streams a variety of topics from Smores.tv and VideoLoyalty. In this platform, you usually have to watch 3 – 4 videos to receive credit. Each video won't take 4-5 minutes of your time.
Micro-tasks
Completing micro tasks in PrizeRebel is an easy way to get some extra points. There are several simple and micro tasks available that pay anywhere between 1 and 6 points per task.
If you have completed many tasks then PrizeRebel also gives bonus points. If you win the grand prize then you will get 200 PrizeRebel bonus points.
Some of the tasks include:
Finding a company earning release dates.
Building online website directories.
Drawing boxes on products
Refer Friends to Earn Bonus Points
Referring your friends to PrizeRebel is a passive income from this site. You can earn up to 30% of what your friends earn.
If they earn 1000 Prize Rebel points then you will get 300 bonus points just because they joined through your referral link.
If you are able to get more friends on PrizeRebel then you can easily earn more cash.earn.
Is PrizeRebel safe?
In terms of safety, PrizeRebel is ranked as the 11th safest survey site. You may think 11th position is not that good. Still this kind of ranking is not easy to get.
PrizeRebel Review
However, most PrizeRebel reviews are positive, which gives the site an above-average rating and make its a trusted survey site on the majority of platforms.
It's parent company is a legitimate US-based company that provides PrizeRebel with an extra layer of credibility and trust.
PrizeRebel is free to join.
It will not encourage you to make you rich.
Their payout threshold is very low, like $5.
It has a prominent Privacy Policy and Contact/Support page.
PrizeRebel offers multiple ways to redeem your earnings.
Pros and Cons of PrizeRebel
Pros
PrizeRebel available worldwide for free.
Multiple ways to earn.
Low payout threshold.
Allows cash redemption as well.
User-friendly interface
Cons
Chances for disqualification for many surveys.
For some countries, the earning opportunities are less.
Is PrizeRebel Worth It?
PrizeRebel is the best site to earn money in your leisure time. You can earn from this site while watching TV. You will not become rich through this site. Still it offers many opportunities to earn some extra money.
To avoid being disqualified for surveys, you would need to complete your profile questionnaire honestly.
The best way to increase your PrizeRebel earnings is to sign up for a few other legitimate survey sites such as InboxDollars, Swagbucks, ySense, Survey Junkie, Pinecone Research and more.
PrizeRebel promo codes?
PrizeRebel offers to share the Promo codes. The PrizeRebel promo codes will be announced on their site and social media pages. You can use this code once you are logged in the PrizeRebel site, and this will give you some free points.
If you need Promo Codes from PrizeRebel then you need to keep an eye on the Facebook or Twitter page. You will see the promo codes and coupon codes on PrizeRebel social media pages regularly.
Usually, a code of PrizeRebel is only valid for the same day it is shared. So I highly recommend you to check social media pages regularly if you want to use promo codes.
PrizeRebel Membership Levels
The longer you use PrizeRebel, the better your position you will achieve. PrizeRebel has 5 membership levels, each has its own set of merits.
Bronze
Silver
Gold
Platinum
Diamond
To become a PrizeRebel Gold member, you need to accumulate at least 4,500 points. The differences are quite significant.
For instance, Bronze or Silver gets a 20% referral fee and Gold members get 25%.
A bonus of 1% of your monthly winnings.
Additional Ways to Earn PrizeRebel Points
There are three other simple additional ways to earn bonus points from PrizeRebel.
PrizeRebel Promo Codes
As we mentioned above, PrizeRebel regularly publishes promo codes and coupons codes that you can redeem for bonus points. You might get them in email and social media pages.
PrizeRebel Browser Extension
The best way to avoid missing PrizeRebel promo code is, by installing the PrizeRebel browser extension guarantees you don't miss promo codes or new survey opportunities.
Using this browser extension, you can your referral or friends stats at any time.
Account Levels
As you earn points day by day, you can upgrade your Prizerebel account levels. PrizeRebel currently starts new members as Bronze, which is the lowest level.
As we mentioned above, there are four additional tiers you can upgrade,
Benefits of upgrading membership levels:
Point Earning Bonus
Discounted Prizes
Increased Friend Referral Bonuses
Receive Your Prize Selections Sooner
Daily Challenges
Each day, you can earn Prize Rebel bonus points if you earn a target number of points.
By meeting the challenge target or amount, you will have an opportunity to earn a daily bonus.
How to Redeem PrizeRebel Points?
So, you have earned PrizeRebel rewards points, and are looking for the redemption options. Right! Below is the easy way to redeem your earned points from PrizeRebel.
Gift cards.
Cash (PayPal, Visa Prepaid Gift Card and Dwolla).
Contests and Raffles.
Each redemption mode has a different number of points. However, your points have the same value for all 3 redemption categories.
Every point is equal to 1 cent. To have a $6 points balance, you must earn 600 points. So you will need to have 500 PrizeRebel points ($5) to request for cash and gift cards.
Once you become a Gold member, then you will be allowed to receive the $2 Amazon gift card.
Gift Cards
You are allowed to request $5 gift cards when you have 500 points in your balance.
In restaurants, you can spend 400 pints for $10. That's a $6 savings and gives you 600 points to spend on your next reward and it will take one day to receive your gift card rewards.
If you are a Gold, Platinum or Diamond member, you get your reward within five minutes.
Once you become a Gold member, you can qualify for the coveted $2 Amazon gift card.
In case, Amazon gift cards are your preferred payment mode then you can request payment in half the time.
Cash
You have three different cash payment options in Prize Rebel.
PayPal
Dwolla
Visa Prepaid Gift Card
You are allowed to request cash payments with a $5 balance. This is the main reason as many members like this survey site. It makes it very easy to get cash as gift cards.
We have seen that many other survey sites require a minimum $20 or $25 balance in order to redeem as cash.
It is true that we do not always want a restaurant or retail gift card just because it's the cheapest option. In PrizeRebel, cash and gift cards are both equally easy to earn.
Contests and Raffles
This redemption option doesn't offer guaranteed payment. These contests usually reward the most active members only.
Each contest mainly focuses on a single activity you need to complete, like surveys, offers, or micro-tasks.
Personally, I use PrizeRebel to make money and redeem using PayPal cash.
Final Thoughts
We have listed out all information related to PrizeRebel. Based on our PrizeRebel Review and comparison to other survey sites, the numbers go strongly in favor of PrizeRebel.
This platform is trustworthy and operated by a legitimate US-based company. In other words, PrizeRebel is a legit site to sign up.
In terms of earning potential at PrizeRebel, it offers an opportunity between $2 and $5 in an hour.
It has several cash-out options.
We highly recommend our readers to join with PrizeRebel without any second thought.
Thanks for reading and please share this guide.